Emma was interviewed by BBC Radio Devon on the subject of Community Spirit, but the show is only available to listen to on line for a short time. With that in mind, please find below a transcript of her interview with Bill Buckley:
Interview transcript BBC Radio Devon 27 Feb 2015 with Bill Buckley.
Bill: Emma's on the line now from Haytor. Hello Emma.
Emma: Hi.
B: I was asking if there was anybody out there who's involved in one of these sorts of schemes already and if so, how it's running, and you're involved in a community shop. Yes?
E: Yes, that's right. I manage a community shop in Ilsington just on the edge of Dartmoor.
B: Now if you're the manager of it, is that a paid job?
E: Yes it is. I'm paid and then I have an assistant manager who's paid aswell.
B: And then underneath them you have the volunteers?
E: That's right. We've got have over 50 volunteers that help run the shop.
B: Wow! Over 50?
E: Yes.
B: Gosh! How long has that been going on and how easy or difficult was it to build up this team?
E: It's been going 2 and a half years. Actually we've been surprised that we've never had a problem and we've never had to shut the shop because we couldn't get someone to run it for us.
B: Wow!
E: Which is really brilliant. We have really long opening hours as well, from 8 in the morning to 7.30 in the evening. But that's great because it means that you have the retirees and people that are free during the day, mums that work in the mornings and then in the evenings, people that go to work actually come in and then help in the shop in the evenings as well.
B: So some of your volunteers are even working mums? Those people that we think do not have time to put their makeup on let alone work in a shop?
E: Yes and people come in with their children at the weekend. The kids help behind the till too so it's a really lovely thing. It's not just retirees helping out at all.
B: At the beginning, how did you find these people?
E: Well it took 4 years to fund raise to actually get the shop open. Our shop in the village shut and then over the 4 years there was lots of involvement fund raising and so on from a lot of people. So we've got 200 shareholders and a lot of those people actually said that they would volunteer. We've had a few people that drop out, but then you get other people that see that actually it's really good fun and will come along…
B: Yeah, you've taken the words out of my mouth. I was going to ask you about that because there is a school of thought that to start with everybody's gung-ho, and it's bringing the village together and then once it gets started, whatever it is, you know, putting salt on the roads or cleaning the loos, or running the shop, it gradually comes down to 3 or 4 people who have to do it all the time. Other people promise to come in but they don't turn up! But you haven't had many problems like that?
E: No. I mean we've had a few people that decide that actually it's not for them, but there's always people moving into the village and so on and we always try and persuade them that actually it's a great way to get to know people and we have people that don't know anybody that come in and actually realise that if they come in and help for perhaps a couple of hours a week they'll meet so many new people.
B: Right. Now what about the cost of all this? Because people say that with supermarkets, the reason that they're successful of course is that they are huge and they've got the economy of scale they can buy in very cheaply.
E: Yes.
B: But of course you haven't got to pay staff like they have so does that level up the playing field a bit?
E: It helps hugely. So if you go into some convenience shops they can be really expensive.
B: Yes.
E: But actually for us, because we don't have all those overheads and …..we don't have to pay rates either and all that really helps us so that actually the stock that we sell is quite competitive.
B: Right.
E: If you're bulk buying huge amounts then it's still cheaper to go to the supermarkets but for a lot of people that are just a couple….We have a lot of people who just come in and do their whole weekly shop with us.
B: Gosh! And you're a big enough shop to stock a big enough range that it will do for a big weekly shop. It must be quite a big shop that you've got there?
E: It's actually really small – it's 500 square feet.
B: How do you get everything that you could possibly want into a little space?
E: It's squashed in!
B: Must be!
E: I am an expert a squeezing stuff in. People are like:"No, not more new lines! And I'm like: "Yeah, we can get some more in there and if we move this around, we can fit some more in there!" So there's always new stock in which keeps people coming in to see what interesting stuff we have got coming in.
B: And why hadn't it worked as a commercial venture? Was it the prices or was it not putting a bit of everything in there? Or what, do you know?
E: It's just it's really hard work to run a shop on your own. I mean I've got 50 people that can help me and that's brilliant. The idea of doing it all on my own, 7 days a week, working 8 to 7 would just be such a strain on one or two people. Whereas we have a committee as well that do a lot of the paperwork, so it just really makes a difference, I think.
B: Now because of this, has this lead on to people in your patch doing all these other things, or maybe do you think they'd consider doing these other things we have talked about – gritting the roads, filling in potholes, and even dare I say, cleaning the toilets?
E: I think you would get more interest because I think it has made a difference as far as people feeling like they're part of the community. The more people you know in the area, so certainly where we've got some elderly people that have been ill and things like that, actually people would come out of the woodwork and say "Oh I can go and get their shopping for them or I'll go and help take them to the doctors". Yeah, you just get much more of that feeling that people want to work together.
B: So we shouldn't see this as an imposition and we shouldn't see this as governments failing us and making us do things for ourselves, we should see it as an opportunity.
E: Absolutely. Yes.
B: Thank you very much, lovely to talk to you. There we are, there's Emma who manages a community shop in Haytor. There is an upside to us having to do it ourselves, it would appear.
Ilsington Village Shop was in the National Press for the first time in its short history. Elizabeth Anderson, the business reporter for the Daily Telegraph, wrote the full page spread about the Best Small Shop Awards 2015:
Community treasures: These are Britain's 20 best small shops
Yorkshire delicatessen Hunters of Helmsley crowned Britain's best small shop among 20 firms praised for community support.
These may be tough times for the high street, but many independent shops are thriving. Benefiting from local knowledge, they are using innovative ways of finding new customers and retaining loyal ones.
Twenty of the best small shop owners in Britain were invited to the House of Commons yesterday, recognised for the work they are doing to enrich their communities.
Hunters of Helmsley, a delicatessen in North Yorkshire that sources most of its produce from local suppliers, took the crown of Britain's Best Small Shop. The judges, who included industry figures and The Telegraph's consumer affairs editor Dan Hyde, praised its regional product sourcing and organisation of events to support the local high street.
Hunters was established in 1990, and since 2008 has been owned by Chris and Christine Garnett, both from Yorkshire farming families. Around 70pc of Hunter's food is sourced locally.
Mrs Garnett says the success of Hunters comes from the fact that it works with local farms and suppliers to produce innovative, high-quality food. Last year Hunters created what it says is the world's first Sloe Gin ice cream, after joining forces with a gin maker and dairy.
Three years ago the pair helped set up Helmsley in Business, a group made up of local shop owners who provide support for each other.
"When the recession took hold, I realised we all needed to work together – if one of us fails, the town starts to fail," says Mrs Garnett.
For Gary Bilbrough, manager of convenience store Nisa Local in Toddington, Bedfordshire, successful shops are engrained in the community.
"We go the extra mile for our customers. We know many of them and if we haven't seen someone for a while, we'll check they're OK. If someone's ill, we'll ask if we can take any shopping round to them," he says. "We give everything we can to the village. We support them and they support us back."
Mr Bilbrough sits on the local parish council, organising community events in the village, which has around 2,500 houses. Each year he organises a free Christmas party for 80 of the local elderly residents, and holds maths lessons with schoolchildren in the store to demonstrate the everyday relevance of maths.
He remains optimistic about what small shops can offer, and says that despite having a Morrisons and Tesco nearby, customers are loyal to Nisa because of the service.
"You have to keep your finger on the pulse. Listen to your customers, be there for them. When people come into the shop, it's like I'm welcoming them into my front room. At the end of the day, you can buy a tin of beans anywhere. It's the extra bits that matter."
The owners of Mainstreet Trading Company in St Boswells, Roxburghshire, on the Scottish Borders, say the recession and the rising popularity of internet shopping has forced independent shops to up their game.
Rosamund and William De La Hey set up Mainstreet Trading Company in 2008 as a book shop, but always planned to expand. Now the store is also home to a café. The pair also recently renovated a barn next door, adding a delicatessen and an antiques and homeware section.
"Our town has a population of only 800, so we always knew we wanted to grow Mainstreet into a destination place – people don't just come here for a book. We have book groups, hold author signings and host wine and beer tasting events," says Mrs De La Hey.
She adds that bookshops have always been creative in attracting customers.
"It's not the Doomsday scenario that was predicted when e-books first arrived. It's changed our way of thinking but it hasn't meant the end of the book. A shop's success is all about the connection with customers as well."
Emma Schramm, store manager at community store the Ilsington Village Shop in Devon, adds that villages are finding their own solutions to local shortages.
The Ilsington Village Shop was set up two years ago, after the previous local store closed down. Aside from one paid manager, the shop is run by 50 volunteers. Any profit the store makes is given back to improving community services.
"There's only about 500 people in the village and we're quite isolated. Some older people can't travel far to the nearest supermarkets so to have a shop within walking distance makes a big difference to the villagers' lives," says Ms Schramm.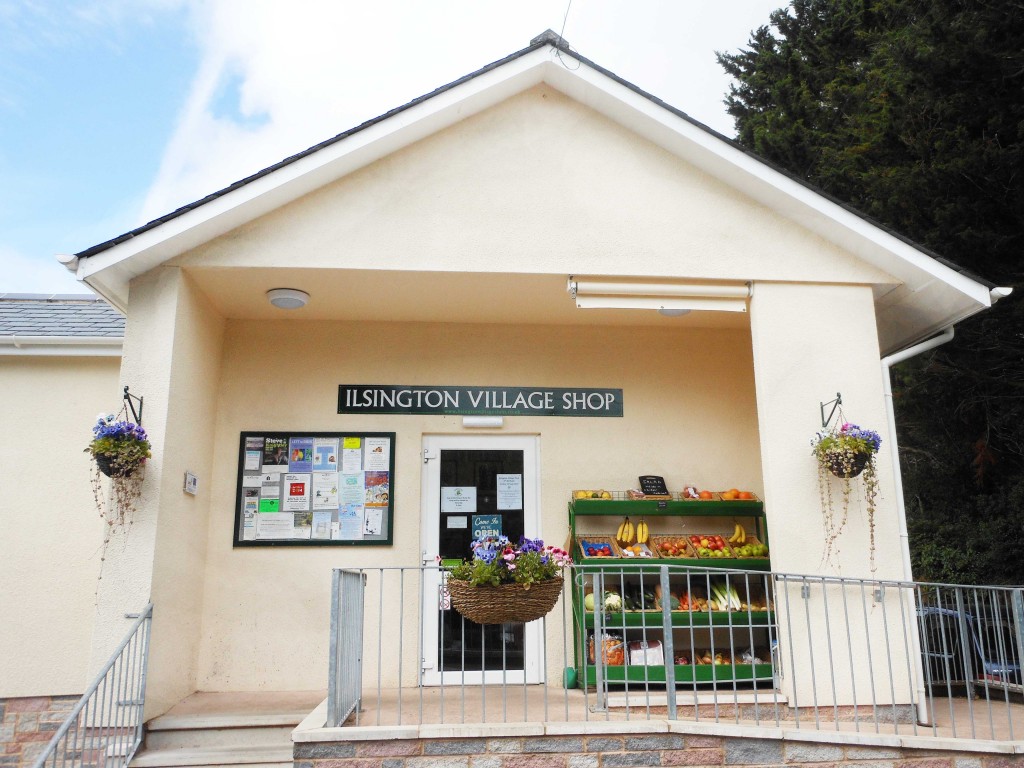 The Ilsington Village Shop is run by 50 volunteers.
MP Simon Danczuk, chairman of the All-Party Parliamentary Small Shops Group, says small shops should be championed more widely. "Small shops really are the backbone of Britain, providing essential services for local people and creating jobs in their communities. It's right that Parliament acknowledges the vital role they play."
Kirsten was interviewed by BBC Radio Devon whilst in London for the Award ceremony, but the show is only available to listen to on line for a short time. With that in mind, please find below a transcript of her interview with Vic Morgan:
Interview transcript BBC Radio Devon 25 Feb 2015 with Vic Morgan (Standing in for David FitzGerald)
Vic Morgan: A tiny village shop at Ilsington near Bovey Tracey was shortlisted today for a very special Parliamentary Award.  Managers Emma Schramm and Kirsten Day went to Westminster today to see if they and their 50 strong team of volunteers would come home with the award for Best Small Shop in the Country. They found out a short while ago that they didn't win but this hasn't dampened their spirit or their pride one bit. I spoke to Kirsten a little earlier to find out how they'd found the day. Well Kirsten, thank you very much for joining us:
Kirsten Day: No problem.
VM: A great day even though the result wasn't necessarily what you wanted.
KD:  No, no, but we're delighted that it's been recognised. I think that was as much for us as anything – the recognition for the community shop as a shop of the future, I think. We were very thrilled to be there and it was great. We've had a fantastic time up here. It's been really interesting.
VM: But to be nominated for best small shop in Devon would be good enough, but in the Country – I mean that's an extraordinary thing!
KD: Yes, very much so. It was a very interesting competition and Emma, our manager, put together a very strong pitch for it and tried to sort of highlight the fact that we are actually run as a successful business, not just providing a central shop for a community that lost its shop about 4 years before but also we do lots of (other things). We hold the keys to the village hall and all sorts of weird and wonderful things as well as sort of being the hub for people to get together and talk, which is basically what they do quite often! Come in and shop and talk, I think.
VM: There is a movement to have more of these, aren't there?  Community shops.
KD: Very much so. Yes I think, I could be wrong, but I think they are one of the strongest growth sectors is Community Shops. And actually the South West of the country has the highest proportion of community shops, I believe, in the country. And I think some of the older, most long standing community shops are in the South West or in the West Country anyway. It was very interesting when we were looking at one of the leaflets at the presentation: there were figures for small shops and (they were) saying about the percentage of small shop keepers that worked over 70 hour weeks and something like 20% of them never took holidays, so for somebody to run one as a private enterprise, it's really difficult. Whereas, of course, as a community, a huge number of our volunteers actually love what they do and it's been a real life line for a lot of them so it's a way of making a functioning shop without having to drain somebody's energy to the nth degree. So I do think there is a real move afoot. I mean, if they work then they're great and we are very lucky. We have a very strong committee and a great manager and I think sometimes it can be very difficult. But we are fortunate, and as a model for a shop for the future it's great and if you get strong support from the community, it's even better. Which we do. I mean we are really well used by the community as well and not just as a sort of "oh, it's our community shop, we need to use it" but people actually use it because it's an excellent facility. I think it is very much the way forward.
VM: I'm guessing that you have origins on the other side of the pond?!
KD: Yes I do!
VM: I mean I'm just intrigued to know whether there are similar projects on the other side of the Atlantic?
KD: I'd like to think that there were but I've been here for such a long time, I don't know! I can't believe that this isn't becoming more widespread. Purely because of the economic difficulties in actually running a functioning shop and also the Americans do have a fairly strong community spirit as well. So I'd be surprised if there weren't similar projects , but I have to say not that I particularly know of because I haven't lived there in a long time so I can't pass comment.
VM: Sadly I'm bound to ask who actually won?
KD: Actually we felt it was a worthy winner. It was a very nice, sort of high-end delicatessen and general shop in Helmsley up in North Yorkshire and we had a quick look at their website and it was a very strong candidate. We didn't feel we were cheated, as much as we would have liked to have brought home the trophy! But we did get a very nice framed picture to hang up as one of the short-listed contestants. They were a worthy winner, I'm sure.
VM: And of course the name of Ilsington will be familiar to many who make their way up and down the Devon Expressway every day.
KD: Yes indeed.
VM: And this is a further reason to put it on the map, isn't it?
KD: Absolutely right, yes! It's got a very nice pub and a very nice shop, so it's a good stopping place. Lots of good local goods and interesting products so, very much so. We could put it underneath the sign on the A38!
VM: Absolutely right!
KD: Shortlisted for the best local shop!
VM: I think you should.
KD: It would be worth doing.
VM: Congratulations to them. They didn't win the actual award but they were nominated. Kirsten Day, from the Ilsington shop, near Bovey Tracey. You may well know it, it's just off the A38 if you get a chance to go there and give them a visit. I'm, sure they'd be delighted to see you.
Well, we didn't win, but it was a fantastic day! The standard of shops that were in the final was really high so we can be very proud of getting into the final, especially as we were the only community shop to be recognised. Lots of other exciting things happened. Emma was interviewed by the Telegraph and there is an article with a bit about us and a photo of the shop in the business section today:
http://www.telegraph.co.uk/finance/newsbysector/retailandconsumer/11435566/Community-treasures-These-are-Britains-20-best-small-shops.html
And Kirsten was interviewed for BBC Radio Devon (Emma wasn't brave enough)!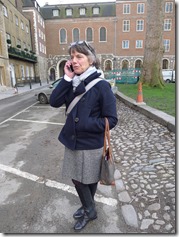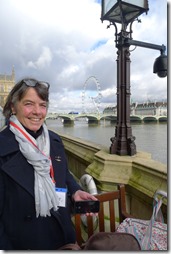 At the Awards, Mel Stride took Emma and Kirsten on a guided tour behind the scenes at Parliament, including watching a debate!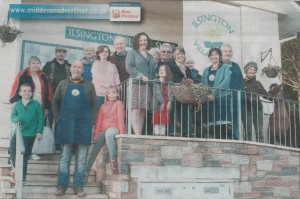 Extract from the Mid Devon Advertiser Friday February 20 2015:
Staff and volunteers at Ilsington's community shop are hoping a trip to the House of Commons next Wednesday will see them crowned the nation's top small store.
The business, owned and operated by villagers since 2012, has been shortlisted in the 2015 Parliamentary Best Small Shops Competition.
It is the only community-run venture to have reached the final 20, judges from the All Party Parliamentary Small Shops Group having considered 300 entries.
The good news arrived on Friday the 13th.
The message included a comment from the judges which read:
"We were impressed and delighted by both the number and calibre of the submissions from retailers sunflowerfor the award.  We were humbled by their energy, impressed by their commitment and in awe of the extent to which the best are embedded in their communities.  There is no doubt that independent retail is in the hands of creative, innovative, business-savvy individuals. It was incredibly hard to shortlist and the range of shops on the shortlist, both geographically and across sectors, is a good indication of the depth and breadth of the talent in evidence."
Manager Emma Schramm is delighted at having made it so far:
"It's just thrilling and a real recognition of the hard work everyone has put in," she said. "The shop does so well because it has such a friendly, welcoming environment. We've got more than 50 volunteers and everyone knows each other, we're the real centre of the community. If we were to win the award it would just mean so much."
Ilsington lost its shop in 2009. Residents set about raising £250,000 to upgrade the village hall, creating a meeting room and retail space in the process.
It had been hoped that by the end of the first year's trading in the summer of 2013 the business would have taken £110,000. Instead, the final figure was closer to £170,000 and the business continues to thrive.
At the time chairman Alan Hobbs said: "It's brilliant. It's been a steep learning curve and we've a lot of people to thank for where we are today. It's been a good journey."
Mrs Schramm is due to make the trip to London with committee member Kirsten Day.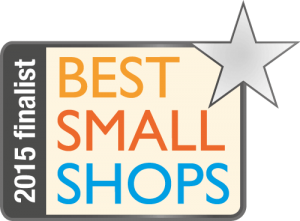 We always knew we were special, but now we have confirmation! On Friday 13 Feb (who said Friday 13th was bad luck?!) we received the following email:
We are pleased to announce that Ilsington Village Shop has been shortlisted as one of the top 20 entries to the Best Small Shops Competition 2015.
Your business was selected by an independent panel of judges from hundreds of high quality applicants from a wide range of retail sectors throughout the UK.
The Best Small Shop 2015 will be chosen from the 20 shortlisted shops and announced at the All Party Parliamentary Small Shops Group, Westminster Reception on 25th February 2015.
Well done, everybody, and fingers crossed we win!
We are aiming high this year and entering the All-Party Parliamentary Small Shops Group Competition to find the best small shop in the UK. It is designed to bring small retailers to the attention of parliamentarians and the local community. MPs are asked to promote retailers from their constituencies and Mel Stride has stepped forward to promote us. Here is his testimony:
The bright and welcoming Ilsington Village Shop is tucked on the edge of Dartmoor National Park in a small isolated community which lost its privately owned shop in 2008. After four years of work and fundraising the new community-owned shop opened in 2012 with a fantastic newly-built store staffed by a manager and over fifty dedicated volunteers.
It is a real testament to the volunteers that the shop is a great success on a business level, with attractive layouts, great products, many local suppliers and a healthy profit to boot.
In addition the shop has made a huge difference to the local community, both as a focal point for the village and also through its donations to other good causes in the area. I strongly recommend Ilsington Village Shop as one of the best small shops in the country.
We will find out if we have made it to the short list on 16th Feb 2015. Fingers crossed!

Trouble getting out of the house?
Not feeling well this week?
Phone the shop by mid-day Wednesday and we will deliver to you free of charge on Thursday morning!
Just call the Shop on 01364661788 to set up your delivery.
(£10 minimum order. Ilsington, Haytor, Green Lane areas only. Payment by cheque on delivery.)
The whole village turned out to help celebrate our 2nd birthday with a glass of pimms and a BBQ.
Dennis Presland won the prize for guessing the total sales reached at the end of the second year and he was only £50 out!