In 2014, the Ilsington Village Shop donated £3000 to some very deserving local causes.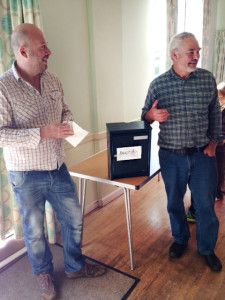 Adrian announces this year's winners
On 4th October at the community market, the winners of the Community Shop Awards were announced.
Alan hands over a cheque to the Ilsington Village Hall Commitee
£2000 was donated to the Village Hall to go towards the renovation of the children's play park.
£500 was donated to Ilsington Primary School to fund trips for the children.
£500 was donated to Ilsington Pre school to help fund running costs.