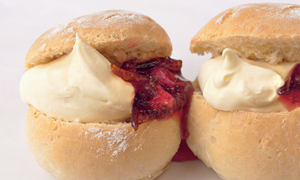 Devonshire Splits
Also known as chudleighs, after the market town, Devonshire splits are often replaced by scones these days. But these little buns are quick and fun to make. They become true to their name only when served, when you split them by slicing a broad smile into their top and stuffing it with jam and clotted cream. This is Nigel Slater's recipe. If you want to use fresh yeast, you should use 30g for the amount of flour below, and cream it with the sugar before adding the warmed milk.
Ingredients
Makes 8-10
450g plain flour
½ tsp salt
14g dried easy-bake yeast (2 sachets)
2 tsp caster sugar
30g butter
285-300ml milk
a little extra flour for kneading
Directions
Sift the flour and salt into a large bowl. Sprinkle the yeast and caster sugar into the flour. Warm the butter and milk in a small pan until the butter has melted. Let the milk cool slightly, until it is just about cool enough to dip your finger in.
Pour enough of the milk and butter mixture into the flour to form a soft dough. You may not need all of it. The dough should be soft and slightly sticky. Mix it with your hands to form a ball.
Tip the dough out on to a floured work surface. Knead the dough lightly for about five minutes until it feels slightly elastic. Return to the bowl and cover loosely with a clean tea towel or clingfilm and put in a warm place.
After an hour or so the dough should have doubled in size. Turn the dough out once more on to the floured board and cut into 8 to 10 pieces. Roll each one into a ball, placing them on a lightly floured baking sheet as you go. I find this easiest in the palm of my hand, but other people like to roll them on the board.
Set the oven at 200C/gas mark 6. Dust the buns lightly with flour and leave to rise slightly, covered by a tea towel, for 10-15 minutes. Bake for 18-20 minutes until they are pale gold on top and sound slightly hollow when tapped on the bottom.
Remove the buns from the baking sheet to a cooling rack for a few minutes. Serve while they're still warm.
<a href="http://217.199.187.65/ilsingtonvillageshop.co.uk/wp-content/uploads/2012/03/Newsletter-No.-11.pdf">March 2012</a>